"Computer World"
"Computerwelt"
From Computer World
by Kraftwerk
Recorded
1979-1981
Genre
Electronic
Computer World
track listing

"Computer World"
"Computer World" (German: "Computerwelt") is a song from 1981 Kraftwerk album Computer World. The song reflects on the ubiquity of computers in every facet of modern society: money, communication, and so on.
Computerwelt Remix
Edit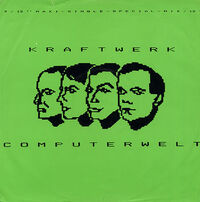 "Computerwelt"
is a special remixed version which officially was released on this maxi-single and an EMI promo compilation LP ("Single News 1/82") only. The maxi-single is released in January 1982 and it also includes two songs "
Nummern
" and "
Computerwelt 2
".
Ad blocker interference detected!
Wikia is a free-to-use site that makes money from advertising. We have a modified experience for viewers using ad blockers

Wikia is not accessible if you've made further modifications. Remove the custom ad blocker rule(s) and the page will load as expected.