Peter A. Schmidt is a German drummer and former member of Kraftwerk. Not much is known about Peter Schmidt. He became the member at around the same time as Houschäng Néjadepour. Peter's name also appeared on Kraftwerk concert poster for their perfomance on 15th February 1971.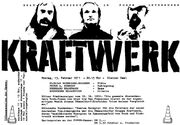 Ad blocker interference detected!
Wikia is a free-to-use site that makes money from advertising. We have a modified experience for viewers using ad blockers

Wikia is not accessible if you've made further modifications. Remove the custom ad blocker rule(s) and the page will load as expected.